Shopping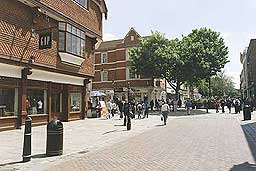 The Canterbury shopping experience is unique. The diverse range of products and services available in Canterbury is a major tourist attraction in itself. Click on the menu on the left to find out why.
We have literally thousands of names and addresses on Around Canterbury. You'll find more businesses and organisations in the Gazetteer section of the site.
Each entry on Around Canterbury contains the basic address and phone details. We provide a link to the web site of the entry if we know the address. If you see a 'Send A Message' line next to an entry, you can click on it to send a message by email. If your entry on the site is incorrect, please correct it by clicking on 'Request Update' that appears on the page next to it.
Each basic entry on Around Canterbury is free and you can add your own business or organisation by finding the relevant page, and clicking on 'Add your entry to this page' button to be found in the top right hand corner of each page.
Please help us make this section grow, if your shop is not here, then add it. If we don't have a section for you, then we will create one.